Face-time with the Experts
Friday - Tuesday, 21- 25 February, 2 - 3 pm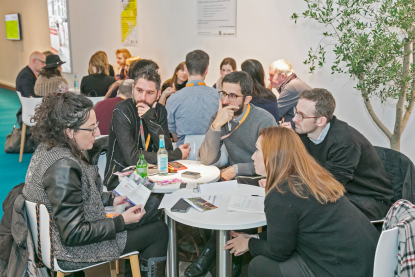 Connect with key executives, forge relationships with prospective collaborators and gain in-depth knowledge at Face-time with the Experts, DocSalon's roundtable sessions hosted by leading documentary experts from the fields of production, distribution and financing. Each table accommodates up to five participants.
Contact
DocSalon
Stand 201, 2nd floor, Gropius Bau

Please note that the information currently given below refers to the DocSalon 2020 and is shown in order to offer a general insight. All relevant content will be updated as soon as it becomes available.
Face-time with the Experts
Stand #201, Gropius Bau, 2nd floor
Friday, 21 Feb
Tobias Büchner, Büchner Filmproduktion / zero one film (Production), DE (fully booked)
Francesco Giai Via, Venice Production Bridge (Financing), IT (fully booked)
Anaïs Clanet, WIDE HOUSE (Distribution), FR (fully booked)
Isabel Arrate Fernandez, IDFA Bertha Fund (Funding), NL (fully booked)
Jean-Jacques Peretti, Sunny Side of the Doc (Market), FR (fully booked)
Isona Admetlla Font, World Cinema Fund (Funding), DE (fully booked)
Saturday, 22 Feb
David Cornwall, Scorpion TV (Distribution), UK (fully booked)
Anna Bertholet, Sweet Spot Docs (Distribution), CH (fully booked)
Manuela Buono, Slingshot Films (Distribution), IT (fully booked)
Ben Bassauer, Monoduo Films (Distribution), DE (fully booked)
Paula Vaccaro, Pinball London (Production), UK (fully booked)
Leah Giblin, Cinereach (Funding), USA (fully booked)
Rasmus Steen / Henrik Underbjerk, IMS (Funding), DK (fully booked)
Sunday, 23 Feb
Sonia Otto, INDI FILM (Production), DE (fully booked)
Pauline Mazenod, Windrose (Distribution), DE/FR (fully booked)
Christa Auderlitzky, filmdelights (Distribution), AT (fully booked)
Elina Kewitz, NEW DOCS (Distribution), DE (fully booked)
Irena Taskovski, Taskovski Films (Distribution), UK (fully booked)
Anja Dziersk, Rise & Shine World Sales (Distribution) DE (fully booked)
Monday, 24 Feb
Ove Rishøj Jensen, Auto Images (Production), DK (fully booked)
Vesna Cudic, MetFilm Sales (Distribution), UK (fully booked)
Diana Tabakov, Doc Alliance Films (Distribution), CZ (fully booked)
Nicole Biermaier / Esther van Messel, First Hand Films (Distribution), CH (fully booked)
Joslyn Barnes, Louverture Films (Production), USA (fully booked)
Maëlle Guénégues, CAT&Docs (Distribution), FR (fully booked)
Tuesday, 25 Feb
Stefanie Fuchs, Autlook Filmsales (Distribution), AT(fully booked)
Jan Rofekamp, Films Transit International (Distribution), CA (fully booked)
Philippa Kowarsky, Cinephil (Distribution), IL (fully booked)
Jean-Jacques Peretti, Sunny Side of the Doc (Market), FR (fully booked)
Isona Admetlla Font, World Cinema Fund (Funding), DE (fully booked)
Liselot Verbrugge, Deckert Distribution (Distribution), DE (fully booked)
Konstantinos Papageorgiou, Dogwoof (Distribution), UK (fully booked)